SOC. AGR. ZAPPATERRA | 600-ANIMAL REPLACEMENT BARN, SLURRY MANAGEMENT AND SEPARATION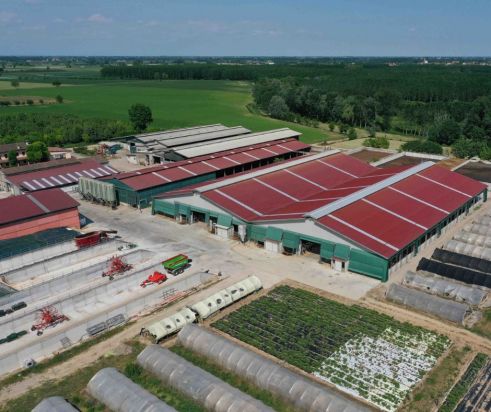 Centenary tradition and innovation: Rota Guido partner of Zappaterra Franco and Ciro Soc. Agr. S.S. for 600-animal replacement barn, equipment, slurry management and separation plants.
For more than 100 years, tradition and innovation have been a winning combination for Zappaterra Franco and Ciro Soc. Agr. S.S., a historic company in San Martino Dall'Argine (Mantua) that has entrusted Rota Guido with the task of continuing to renew its farm!
Specifically, Rota was responsible for the construction of the new replacement barn for about 600 animals, characterised by...
- TWO STEEL STRUCTURES with double pitch for a total of 5,215 square metres
- FARMING AREA on bedding with nursery box
- BREEDING AREA from the 2nd to the 10th month on bedding, from the 10th to the 18th month with adjustable bunks and mattress
The animal waste part is also by Rota Guido thanks to the slurry management system and separation plant.
"We thank the farmers of the Zappaterra farm for having placed their trust in Rota Guido: the story continues... together!".