Equipment for replacement
Even for the buffalos the mixed solution – first phase on flat or leaned bedding, and second phase on berths – offers the best guarantees in terms of efficiency, animal welfare and friendly management.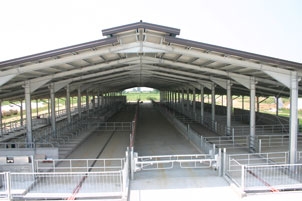 The plan distribution for the shelters in this sector calculates the rest area in bedding (3-6 mq/animal up to 16 months of age c.a and 6-8 mq./animal up to the delivery) and the feeding area on full floor, with mechanized clearing, or on grid. The self-capturing and anti-choking rack has different dimensions (height and axle base) depending on the animal's age. Even the fences and the gates have to be properly studied in order to bound all the animals in the feeding area during the removing of the bedding.
The solution with adjustable berths is interesting both as concerns the less space needed, both for the training function, assuring from the beginning the complete filling of the berths in the milking cows' stable, while avoiding any problem of settlement.
After the period dedicated to the training to the social life, at about the age of 6 months, it is possible to form larger groups of calves and young cows, by hosting them in shelters with rest area equipped both with bedding and berths.