Accessories for management of the livestock operation
MULTIPURPOSE MOTORIZED MACHINE
Equipped with a 9 HP engine and hydraulic engine for accessories of 16 liters/min. Width m. 0,86 - lenght m. 1,20 – weigh kg. 150. Available with brush for berths' cleaning, scraper, straw or sawdust dispenser and screw for feeding bringing. All the accessories are easily and quickly interchangeable tank to the fast connection.
DOUBLE-MOTORIZED COW BRUSHES
The brushes are not just an element off un for the animals, but they are designed to answer to their specific hygienic needs, as the brushes, with the aid of specific products, allow the treatments against the skin parasites. The brushes are available fixed or motorized. The ideal brush is the double motorized brush, that assure the best cleaning and comfort both for the upper and for the side parts of the animal.
FOOT WASHING SYSTEM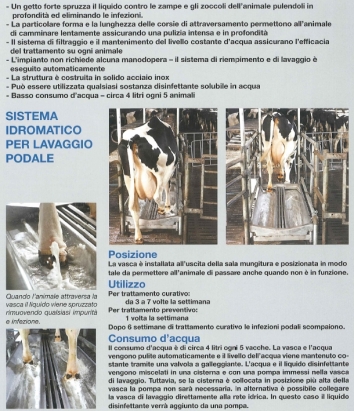 TRAY FOR FOOT TREATMENT
Polyethylene trays are easy to place in the passages, and allows the foot disinfection treatment of the hooves without need of special building works. Therefore, together with the building costs, they can prevent steps and deep spots, always difficult to manage and even dangerous when they are in places where animals are forced to pass.
CATTLE CRATE FOR MEDICATION
Easily blocks the animal and tank to several constraint and lifting bands it facilitate the approachment of the parts concerned.
MUZZLECLAMP DEVICE
The device "muzzleclamp", can tie the muzzle firmly, without risks for the operators and it becomes a powerful help for the breeder, in all the treatments requiring the oral assumption of medicines by the animals. This device can easily be applied on each type of selfcapturing rack
Especially useful to allow, or to make easier, the execution of all the works closely linked to the good breeding running.
RUBBER MATTRESSES FOR FLOOR COVERING
Their surface can be flat or holed to be properly placed in the various floor types. They are most used for the covering of some parts of the feeding lanes and mosto f all for the passages and the floor covering of waiting and milking rooms.