New cooling system for dairy cattle
AUTOMATED MIST SYSTEM AND VENTILATION
The most important strategy to be implemented in order to avoid the problem of heat stress inside the barn is a cooling system that can optimize air movement into resting areas, on feed lines and in the waiting area. This system allows wetting and drying the cow during day and night, avoiding wasting water and energy.
This system allows achieving, without any loss caused by heat stress, the highest feeding, productive and reproductive efficiency for the animals: these are the goals helping to reach the best economic efficiency in a farm.
MIST SYSTEM AND VENTILATION IN WAITING ROOM
1ST PHASE - MIST SYSTEM AND VENTILATION IN WAITING ROOM
The first treatment takes place in the waiting room: the system activates both mist, from the sprinklers located above the animals, and ventilation, from the fan located at the beginning of the room, intensively wetting the animals' body.
This treatment is used to prepare the cows to better release the milk.

MIST SYSTEM AND VENTILATION IN FEEDING AREA
2ND PHASE – VENTILATION IN FEEDING AREA END SUBSEQUENT WETTING OF THE ANIMAL
After their permanence in the milking parlor the cows need to drink, therefore it is very important to ventilate the feeding area and to mist them, so that they can reach the optimal body condition and they are encouraged to feed in the right way. In this way, it is possible to optimize the way cattle are fed, avoiding wastefulness due to lack of appetite.
VENTILATION ONLY ON RESTING AREA
3RD PHASE: VENTILATION IN RESTING AREA AND SWITCHING OF IN THE FEEDING AREA
After one hour, the program starts activating the ventilation on the resting area, working in parallel for a brief period together with the feeding area. When the ventilation on the feeding area turns off, the animals start moving toward their cubicles.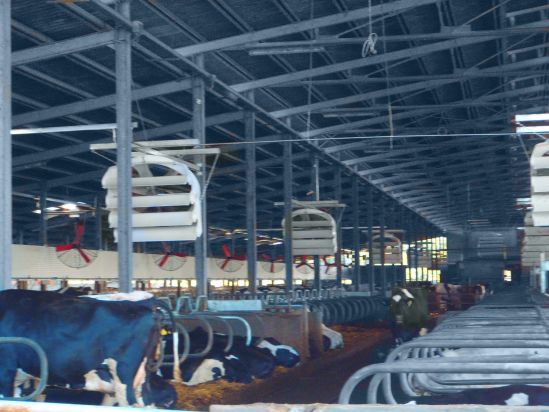 AIR EXCHANGE IN RESTING AREA
4TH PHASE: AIR EXCHANGE WITH VENTILATION SYSTEM WHILE THE ANIMALS LAY DOWN
After feeding, the cows lay down and keep on ruminating. During this phase, it is important to guarantee air exchange, so that the toxic gasses produced by the fermentation of the dejection and from the animal digestion will not stick around, creating unhealthy conditions.