Dry feeding plants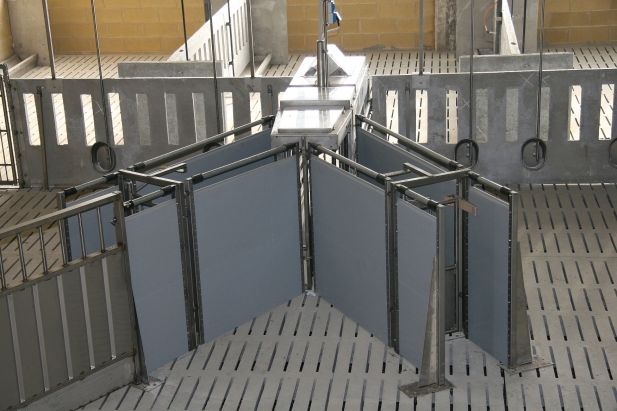 Great reliability plants, that take the feed from the storage structures and distribuite it, at demand or in portions, in the single troughs, according to the many needs of the several breeding phases.
The storage silo for the feed can be indoor or outdoor, including accessories for the proper and hygienic feed's preservation. They are made in galvanized steel, in fiberglass or, if indoors, in Trevira sheet and they can be loaded by pneumatic system or screw system.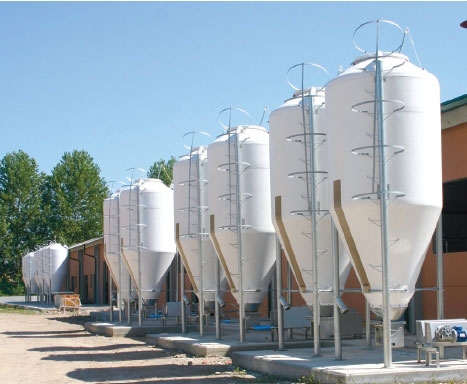 The Multiphase solution is very interesting, as it gives the opportunity to mix different products and deliver them – even in computer mode – to the single troughs.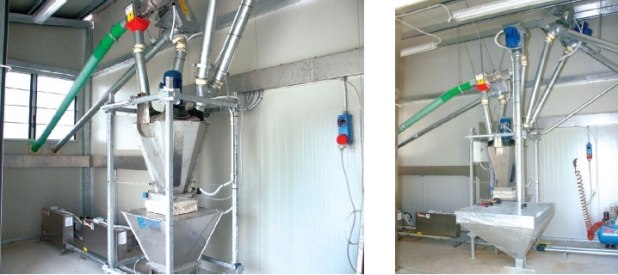 Plants for the distribution of the portioned feed with volumetric dosers for pregnancy's single places.
Plants for the distribution of feed for sows in group with portioned system and devices of biologic fixation "FIXOS" and "TUBE FEEDER", for the reduction of the competition during the feeding.
STATION WITH COMPUTER SYSTEM
For the breeding of sows in group with a capacity of 50-60 animals for each station, with the following benefits:
Individual feeding of the sows with a perfect correspondence to their needs and guarantee for a uniform growth of the animals and for more vital and homogeneic piglets at birth.
Solid and strong station's walls, to grant a quiet feeding for each sow.
When the station is empty, the door opens by pneumatic system, to learn easily to the sows the use of the system.
Particularly suitable for the installation both in new housing and for the renewal of old stables.
Mechanic buffer device to avoid stressful intervals, for a quick passage pace that keeps the animals less aggressive.
Selection system for the animals' isolation.
Precise dose of the feeding without residues and waste.
Wide troughs' range for the sole dry feeding, or with "eat and drink" device to be installed on partition fences or at the center of the box.

TRISORT SYSTEM: ROTA GUIDO NEWS

The Trisort system can equally work with a dry feeding or with a liquid feeding, as it is equipped with a computer on board, which allows both solutions. If there is a Rota Guido liquid feeding system, Trisort can interface with the kitchen and control the feeding phases, by correcting the quantities and times, according to the actual needs of the pen and the appetite of the group.