MACCARESE SPA AND ROTA GUIDO: SUSTAINABLE LIVESTOCK, ANIMAL WELFARE, AND CONTINUOUS INNOVATION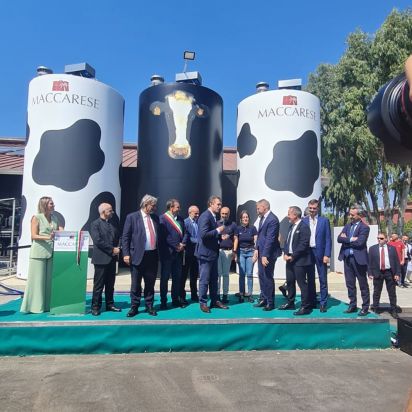 Rota Guido participated in the event 'Maccarese: A Sustainable Farm' at one of the largest agro-zootechnical companies at the national level, situated between the coast and the Roman hinterland in the Maccarese area (Fiumicino). Sustainable livestock farming, animal welfare, and continuous innovation have always been the values upon which the collaboration between Rota Guido and Maccarese Spa is based, and these values have led to the achievement of significant production milestones, such as the ones currently in place. Rota Guido proudly reaffirmed its partnership with Maccarese Spa in the construction of the new two-level building for offices and facilities, complete with a balcony overlooking the newly inaugurated carousel milking parlor.

The event was attended by Andrea Benetton (President of Maccarese Spa), Stefano Ciafani (President of Legambiente), Paolo De Castro (Member of the European Parliament), Claudio Destro (President of the Training Center for Agro-Zootechnical Development), Rino Fisichella (Archbishop), Maurizio Martina (Deputy Director-General of FAO), Ettore Prandini (President of Coldiretti), Giancarlo Righini (Regional Councillor for Budget and Agriculture of the Lazio Region). Also present were Minister of Health Orazio Schillaci, President of the Lazio Region Francesco Rocca, Mayor of Fiumicino Mario Baccini, and Minister of MASAF Francesco Lollobrigida. The event was moderated by Chiara Giallonardo (journalist).