Microclimatic control
"BIG FAN" improve animals' comfort.
ARTIFICIAL VENTILATION
With the artificial ventilation it is possible to assure the change's volumes and the required conditions, regardless the outdoor weather conditions. Therefore it is the solution to choose everytime there is the need to keep precise microclimatic conditions and to avoid thermal changes, in order to grant a positive breeding outcome.
HEATING AND COOLING
The shelter's heating is necessary to keep a suitable thermic level, especially in the most delicate sectors like the birth and weaning area, when the heat from the animals is not enough to balance the heating loss from the shelter's surface and from the ventilation.
NATURAL VENTILATION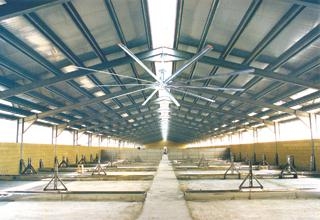 Many weather conditions, such as the temperature, the relative dampness, the air's speed and quality, the presence of harmful gas and dust, and the extra-weather conditions, such as the type and density of the boxes, work together to influence the level of animals' welfare and the total breeding's economic outcome.
Animals placed in ideal conditions is essential for a successful breeding.

MIXED VENTILATION (NATURAL/FORCED)
While planning the pigsty, all the factors which influence the quality of the outdoor space.
The control of the high summer temperatures (through the cooling) can be obtained by the temperature's fall caused by the evaporation.
Particularly interesting are the devices for the dust reduction and the air cleaning inside the housing