Drinking accessories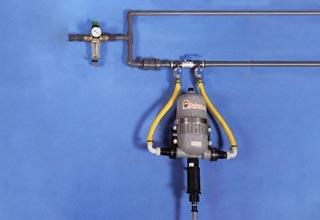 DOSATRON
It is a doser for medicines, to ensure a safe and precise dosing through the drinking water. It is installed with a specific by-pass in the water duct, and doses the product in the water distribuited to the animals.
NO-WASTE TROUGHS
they satisfy the need to reduce the quantity of manure to the actual quantity of the dejections produced by the animals. For this reason, they have the function of collecting the waste from the drinkers, delivering them outdoors by a specific collection net, towards the draining channel as "waste waters free of dejections".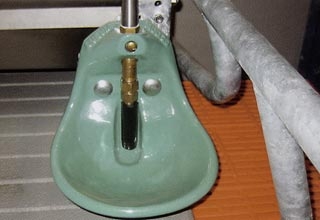 CUP DRINKING TROUGHS
designed to reduce the waste and to assure an easy drinking for the animals, always respecting good hygienic conditions.
The form of the cup is therefore of small dimensions, and, in some types, it is protected by an upper piece to avoid the defecation.
NIPPLES DRINKING TROUGHS
in its many types and dimensions it is certainly the most common drinking trough. Available with 3/8" – 1/2" – 3/4" joint, including fixed or height-adjustable fixing brackets.
In the pig breeding, aside from the important feeding function, it is necessary to consider water regarding its proper delivery in order to avoid waste, and therefore the volume of the liquid waste produced in the farm, which contributes to determine the environment effects of the breeding. The possible solutions for the drinking are:
A COMPLETE KNOW-HOW AT YOUR DISPOSAL