Boar area – second pregnancy phase
The second pregnancy phase has to develop according to the rules on animals' welfare and the sows must be kept in groups.
The equipment and plans are designed to grant the lowest level of competition and the maximum animals' comfort.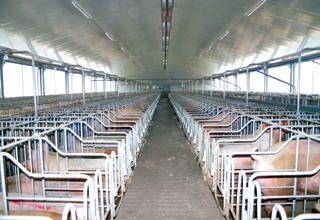 An important part of the new rules about the welfare is dedicated to the sector of the pregnant sows, where there are significant variations about the space, the flooring, the type of housing and the feeding systems.
As far as the pregnant sows' type of housing is concerned, for all the pregnancy period the crates are banned.
The laws enforcement brings obvious problems about the competitiveness inside the groups, as well as about the troubles during the regular operations of control and government of the animals.