NEW 7.939 SM BARN AND 100 KW BIOGAS SYSTEM FOR "MILK TIME" (TREVISO)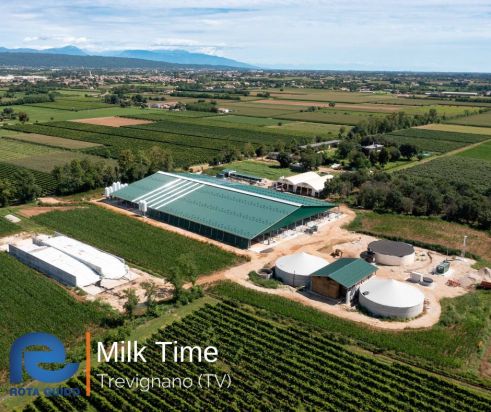 New barn for 250 lactating cows, 40 head calves pen and 100 kW biogas system… advanced integrated livestock center branded Rota Guido!
New construction in Veneto for Rota Guido! Work in progress at "Milk Time" Agricultural Society in Trevignano, Treviso province, for a new 250 lactating cows barn equipped with 4 milking robots (predisposition for the 5th robot) for a total surface of 7.939 square meters.
360° technology and animal wellbeing, since the animals will be fed through a robotic feeding system.
It is also in progress the construction of the calves pen, equipped with 40 calves pen and a 54 square meter area for milk preparation.
For a project to include the new barn, but also the renewable energies… this breeding represents in fact an example of advanced integrated livestock center, in fact Rota Guido is also realizing a 100 kW biogas system that will be powered through the farm's own zootechnical waste only. The solid fraction of digestate will be then re-used in the cubicle instead of hay!